Note: This review was originally published in The Cape Cod Chronicle in January 2019.
"Close your mouth, Michael, we are still not a codfish."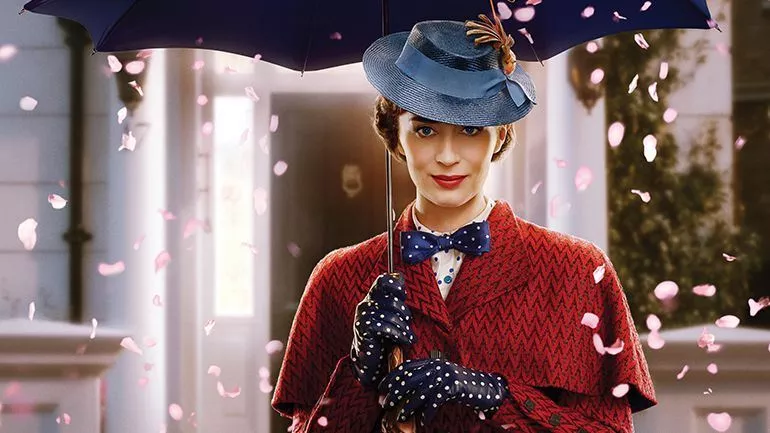 This remark is just one of the many callbacks that comes from Mary Poppins (Emily Blunt), who returns to the home of the Banks family from Disney's classic 1964 film Mary Poppins in Mary Poppins Returns to help Michael (Ben Whishaw) and his sister Jane (Emily Mortimer), who are trying to save their family home from the greedy bank that Michael works for, spearheaded by William Weatherall Wilkins (played deviously by Colin Firth).
It seems like a by-the-numbers plot, but it's enough of a story to create a thread to connect the many extravagant musical and dance numbers that this film contains; unfortunately, while the original's iconic songs such as "A Spoonful of Sugar," "Supercalifragilisticexpialidocious" and "Let's Go Fly a Kite" are classic Disney tunes, the music of Mary Poppins Returns doesn't resonate with the viewer as much as it should; however, it does contain a number of jolly tunes that will have you humming as you exit the theater.
The best ones come from Lin-Manuel Miranda, the award-winning actor/playwright behind Broadway sensations
In the Heights
and
Hamilton
, who plays Jack, a lamplighter who was one of the wards of Mary Poppins when he was a young boy, which makes him a perfect mentor for the trio of children in
Mary Poppins Returns
, who have grown mature after the death of their mother and don't believe they need a nanny like Mary Poppins.
One of the best things about Mary Poppins Returns, a sequel 54 years in the making, is that it pays delightful homage to the original; it will satisfy any level of fan, from casual viewer to avid rewatcher of the original Mary Poppins. Not only are there countless references to events of the original that viewers will appreciate, but characters and locations return that only heighten the nostalgia element and make for a truly entertaining ride.
You may remember from the original Mary Poppins that there is a 2D animation sequence that was quite astounding for the time (combining live-action characters with animated backgrounds and characters), and the sequel has a similar sequence filled with a few different musical numbers, some fun cameos, and jokes that (mostly) land.
One of the only problems I can find in Mary Poppins Returns, aside from the nonsensical plot holes that are always explained by the fact that "Mary Poppins never explains anything," is the film's runtime, which is well over two hours; and while it does't quite exceed its predecessor's, it still seems that a good twenty minutes could have been shaved off of it. This is especially true in the "Disney-fied" third act, which is both suspenseful and boring at the same time, because anyone who's ever seen a movie knows how it's going to turn out. However, the kids in the audience will be sure to be on the edge of their seats.
In the end, Mary Poppins Returns is a nostalgia-fueled sequel that brings out the best in all the actors (most notably Emily Blunt, whose performance is so reminiscent of Julie Andrews she could easily be mistaken for the legendary actress herself, especially in this role), and will delight viewers who bore witness to the umbrella-toting nanny first appearing on screen in 1964, as well as moviegoers who are joining her in 2018. [Grade: A-]
Writer: David Magee
Starring: Emily Blunt, Ben Whishaw, Emily Mortimer, Colin Firth, Lin-Manuel Miranda
Rated: PG for mild thematic elements and brief action
Available:
Disney+
Fun Fact: At the age of ninety-three at the time of the movie's release, Dame Angela Lansbury is the oldest actress ever to appear in a Disney movie. She is just two months older than the oldest actor in a Disney movie, Dick Van Dyke, who also set the record with this movie.