Note: This review was originally published in The Cape Cod Chronicle in April 2019.
Have you ever wondered what Big might have been like if it had been a superhero flick?

Well, that's more or less the premise of Shazam!
Foster kid Billy Batson (Asher Angel) is recruited by a wizard named Shazam (Djimon Hounsou) to become his "champion" for righteousness. Transformed into a powerful older version of himself (Zachary Levi) every time he says the wizard's name, Billy turns to his foster brother, Freddy Freeman (Jack Dylan Grazer), a self-confessed superhero fan, for help in controlling his newfound abilities. While they're busy with that, Dr. Thaddeus Sivana (Mark Strong), a man who was rejected by Shazam years ago for being too easily tempted, teams up with demons that are the physical forms of the Seven Deadly Sins to attain Billy's power.
And so we have ourselves a superhero movie.
One could argue that by this point, the "cookie-cutter" formula that these films follow is getting old, but another could argue that each new film manages to put a new spin on the classic clichés that we've been seeing play out on our screens for the past ten years. I think that
Shazam!
is the perfect example of that, because it manages to blend humor and a heartfelt message about family in such an enjoyable way.
You see, all through this ordeal, Billy is on a search for his birth mother, and a fair amount of the story is spent on his integration into his new foster family, led by a mother and father (former foster kids themselves) who just want to create a warm and loving home for parentless children. It's a really touching plot element that establishes a tender environment for the protagonists.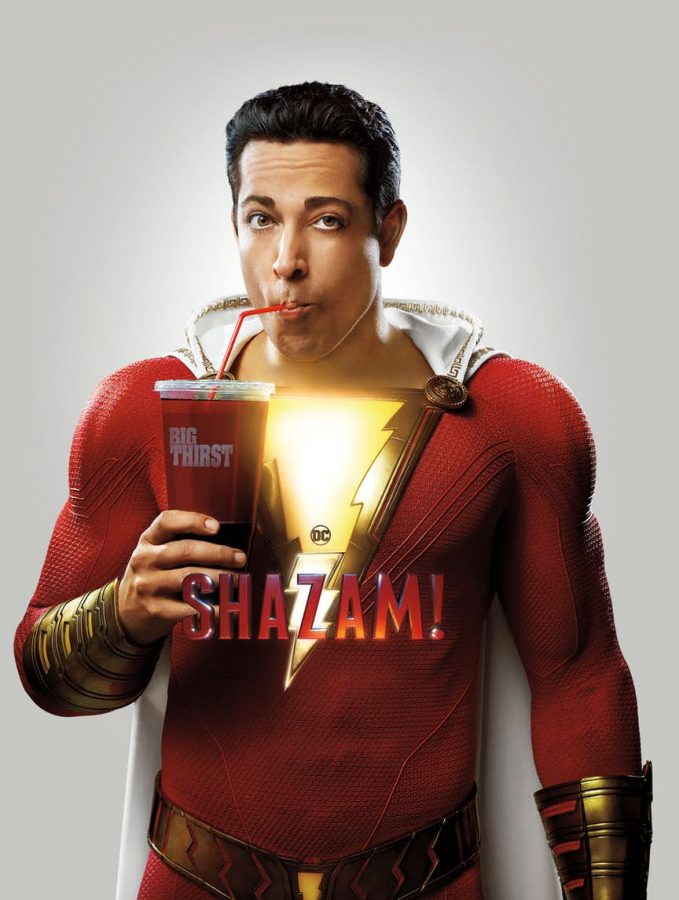 The cast of Shazam!, especially the leads, are comedic forces to be reckoned with. Zachary Levi incredibly captures the spirit of a teenager trapped in a suddenly strapping body, and his giddiness and excitement is just so amazingly fun to watch. Jack Dylan Grazer, arguably one of today's best child actors, conveys a rollercoaster of emotions. Freddy is not only a foster kid, he's also disabled, and he has a wicked sense of humor. Throughout the film, he must struggle with watching his best friend gain superpowers, having been reduced from his peer to just another orphan. It's an emotional journey that's worth paying attention to.

I only have one gripe with Shazam!, and that's that it has some pacing issues. The scenes sometimes shifted from cheerful and exciting to moody and violent with barely any warning. That said, it's something superhero fans have most likely gotten used to over the past few years of films with similar issues, but it's worth noting.

Shazam! Is a rocking good time. It has a unique vibe that adds some colorful energy to the story that's been missing in superhero cinema, especially DC films, in recent years. [Grade: A]
Director: David F. Sandberg
Writer: Henry Gayden
Starring: Zachary Levi, Jack Dylan Grazer, Mark Strong, Asher Angel, Djimon Hounsou
Rated: PG-13 for intense sequences of action, language, and suggestive material
Available:
HBO Max
Fun Fact: When Shazam attempts to fly in the mall during his battle with Dr. Sivana, a group of seemingly unimpressed shoppers can be seen in the background. Those were actually visible crew members that were filmed by accident. Shopping bags were inserted digitally to give them the appearance of shoppers.