Edgar Wright just doesn't miss. It's a simple fact. He developed Ant-Man, wrote The Adventures of Tintin, and directed some of my favorite movies of the last twenty years, including Hot Fuzz, Baby Driver and Shaun of the Dead. You can just imagine my excitement when I first heard about his latest, Last Night in Soho.

Of course, pandemic delays have affected most recent Hollywood releases, but Last Night in Soho has finally been released, and I'm happy to say I thoroughly enjoyed it. I know, I usually leave my verdict until the end, but I had such a good time last night with Last Night that I had to throw that out there at the start.

I will say this: if you haven't seen a trailer yet, don't. Last Night in Soho is better seen unspoiled in any way, so the less footage you see beforehand, the better. To give a brief plot teaser: Thomasin McKenzie plays Ellie Turner, a young fashion student who moves to London for school, and it isn't long before she starts seeing nighttime visions of Sandie, a young singer from the 1960s.
The three things I loved best about this movie are all Edgar Wright staples: the visual atmosphere, the acting, and the use of music. Ever since Shaun of the Dead, these have been Wright regulars, and I'm glad to see that the trend is continuing because it's something I won't soon tire of.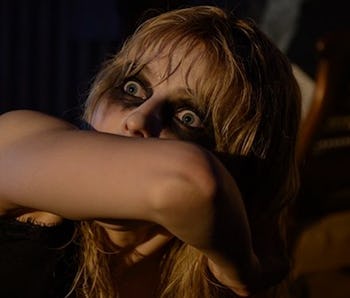 While the story isn't the strongest (beneath the surface, at least), Last Night makes up for it with its impeccable visual style. The second we enter Ellie's vision of the 1960s, we're swept away into a picturesque world of color and elegance, and I couldn't be more into it. Though its early momentum lessens as the film goes on, the visuals are top-notch all the way through.

Thomasin McKenzie, who's had a hell of a run the last few years, is center stage, and I couldn't be happier. After supporting turns in films like Jojo Rabbit and Old, it's about time she gets the top spot. She's joined by Anya Taylor-Joy as Sandie, another incredible role, though Taylor-Joy is often upstaged by her own incredible singing voice. Matt Smith, Terence Stamp and the late Diana Rigg play supporting roles, and they're nothing short of fantastic as well, most of them playing against type. I was deeply saddened by Rigg's passing last year, but I'm glad she gets a final stab at a killer performance in Last Night in Soho.

One of Edgar Wright's best talents is choosing the right music for his scenes. Not only does he involve songs from the 60s and today (and everything in between), there are songs on the soundtrack sung exclusively by Anya Taylor-Joy, which are a delight to listen to even apart from the film.

It's difficult to fully discuss the message of the film without delving into spoilers, but there is definitely no debate about what it's trying to say. Everything is crystal clear, which isn't a bad thing, but it doesn't exactly help the film either. Subtlety is the friend of storytelling, and Last Night in Soho doesn't seem to have a lot of it — however, there are two sides to every coin. I do appreciate that Wright and co-writer Krysty Wilson-Cairns don't spend too much time needlessly reinforcing the theme, and instead just let the story play out. The message follows along on its own, examining sensitive topics in a visually interesting, but not always completely cognizant, way.

Last Night in Soho is a tamely (but shamelessly) supernatural thriller and well worth your time. Its mystery is built well, and I had a delightfully fun time watching it. Though Last Night in Soho is set partially in the past, Edgar Wright still has a long future in filmmaking, and I am absolutely here for it.
[Grade:
A
]
Director: Edgar Wright
Writers: Edgar Wright, Krysty Wilson-Cairns
Starring: Thomasin McKenzie, Anya Taylor-Joy, Matt Smith, Diana Rigg
Rated: R for bloody violence, sexual content, language, brief drug material and brief graphic nudity
Available: Theaters
Fun Fact: Last Night in Soho is the final performance of Diana Rigg, but it is also the final performance of Margaret Nolan, who passed away in October 2020.