It's spooky season, and schoolwork is beginning to ramp up! That doesn't stop my watching habits, though -- not while there's entertainment to be had! Featuring horror and otherwise, here is what I watched in October 2021.
LEGO Star Wars: Terrifying Tales (2021)
Viewed on: October 2
It seems Disney+ has begun a LEGO Star Wars holiday special tradition, following up 2020's Life Day special. In a similar vein, Terrifying Tales follows an anthology format anchored by a framing device that pays off at the end. Being non-canon to the overall Star Wars universe gives this forty-five minute special license to basically do whatever the hell it wants with the characters at its disposal, and it definitely goes for it. To those who wanted a General Grievous vs. Darth Maul mashup fight, your prayers have been answered. People who wondered what might have happened if Luke joined the Empire from an early age will also be satisfied by one of the stories presented here. Terrifying Tales is fun, exactly as it should be -- and it caters to all ages, not just the children it was very much made for. Keep 'em coming, Disney... we'll keep watching. [Grade: A]
On My Block Season Four (2021)
Viewed from: October 4-6
The fourth and final season of On My Block was a long time coming, and I'm glad I got into this show when I did. Our primary group of friends (aka the Core Four) keep finding themselves in dangerous trouble, even two years after Season 3 concluded. Ruby, Jamal, Cesar and Monse are living very different lives since we've last seen them, and it's the perfect way to differentiate this from previous seasons. The characters we love are older and more experienced, and so removed from the events of the first three seasons that revisiting them uncovers a whole host of unresolved conflicts and character storylines that are ridiculously entertaining to watch unfold. The interactions between the main characters are so engaging and wholesome, off-kilter humor and all, and Season 4 continues that tradition in stride. It might be a "where are they now?"-style epilogue stretched into a whole season, but it makes full use fo the time jump, giving us some great new opportunities for characterization and emotional moments that top anything we've seen so far in the series. Some of it boils down to unnecessary forced conflict, and Jamal continues his tradition of being a selfish jerk (in his quirky way), but the themes of friendship are so carefully imbued with bracing humor and thrilling, grounded action that there's no way you can't love this show. Season 4 is a strong conclusion to an already successful series, and I can't think of a better sendoff. [Grade: A+]
Viewed from: August 11-October 6
Jeffrey Wright stars as the Watcher, the MCU's observer of the multiverse and cosmic Nick Fury,

in the first animated outing from Marvel Studios. Each episode is a brand-new story, a hypothetical spin on the outcome of a Marvel film, and while it takes a little bit of time for the series to find its footing, it gradually settles into a rhythm where the stakes are low but the excitement level is consistently high.
The nine episodes of Season One are as action-packed and exciting as you want them to be, and it is a great feeling to have some familiar voices from the Marvel movies we know back as certain characters. Plus, it may technically be an anthology series (and a canon one at that), but by the end of the season, most of the storylines are tied together in a satisfying conclusion that honors the source material while also carving out a new path for these multiversal characters to tread. Not to mention the finale is the last screen appearance by Chadwick Boseman, who is gone but certainly not forgotten.
[Grade:
A
]
The Premise Season One (2021)
Viewed from: September 16-October 7
BJ Novak's sex-obsessed anthology series from Hulu is a valiant swing from the established comedy writer...but unfortunately, it manages to miss most of the targets it aims for. Each episode has a different story with a different cast, and most involve storylines that are trying their best to be philosophical, but often find themselves bogged down with the amount of ideas explored per episode (yet, somehow, each episode feels constrained and limited in scope). Most episodes tackle serious issues in an admittedly interesting way, though they are very soon muddled with the veiled, pseudo-intellectual immaturity that the show can't seem to escape -- who knows, though, maybe that's the brand Novak was going for (the finale, entitled "Butt Plug," comes to mind). Some highlights: the performances are usually very reliable and strong, including one by the late Ed Asner; some episodes use tension in a unique manner; and it
's quite well-written (props to BJ Novak), but it isn't enough to make this very brief season of frivolous television worth watching.
[Grade:
B-
]
Ted Lasso Season Two (2021)
Viewed from: July 23-October 8
Ted Lasso is no longer a half-hour comedy. Instead, the Apple TV+ original is venturing into the hour-long dramady category, completing this transition seamlessly without any lost charm. Ted Lasso and its titular feel-good football coach are still giving us emotional thrills, from the highest highs to the lowest lows. Season 2 does delve into the more serious sides of all of our characters, most importantly the subject of mental health and anxiety, and how athletes deal with it in various ways. It may be a coincidence that this season was released shortly after the same topic arose during this year's Olympics, but that only makes it so that Ted Lasso is still a (more upbeat) reflection of the world and culture around us, or at least a reflection of how it should be. Pair that was an absolutely incredible ending, and you can consider me satiated until the arrival of Season 3. [Grade: A+]
Liquid Sky (1982)
Viewed on: October 8
Perhaps the most psychedelic films I have ever seen, Liquid Sky is very much a product of its time, the very picture of the drug-fueled underground 80s club culture. Anne Carlisle plays two roles: Margaret, a woman who abandoned her promising future in favor of the aforementioned party-focused life, and Jimmy, a fellow cocaine-addicted model and Margaret's rival. Carlisle is so remarkable in both of these roles that it was genuinely difficult to tell she played Jimmy at first. You may also be surprised to learn that Liquid Sky is a science-fiction film of sorts; amorphous aliens land on a rooftop above Margaret and her drug-dealer girlfriend Adrian's apartment, and begin to feed off of endorphins from Margaret's sexual encounters. Liquid Sky is certainly one of the most bizarre films I've ever seen, and is heavily stylized to the point of self-parody. The actors play it up, knowing exactly what kind of movie they're in, and that makes it a highly entertaining viewing experience, coupled with the decadent perversion presented by the film that makes you constantly question if you should even be watching it in the first place. [Grade: A-]
Viewed on: October 8 and 10
Having watched 2001 for the first time, I can now confidently say I can see what all the fuss is about. Stanley Kubrick's masterpiece showcases cutting-edge visual effects, revolutionary science fiction ideas, and brilliant uses of classical music, to name a few iconic elements. Its slow burn storytelling focuses less on character and instead builds tension in unexpected ways, influencing sci-fi and fantasy for decades to come. And, while 2001 is light on story, its scope more than makes up for it, imagining a future that, admittedly, is dreaming too big too soon...but it's better than dreaming too small. [Grade: A]
When Harry Met Sally... (1989)
Viewed on: October 11
You'd be hard-pressed to find a more well-structured romantic comedy that truly understands the rules of the genre, while also being original and expressive with its execution. Meg Ryan and Billy Crystal are perfect together, and the film is best when they embrace the kookiness and lovable madness that is the long game of love. I'm glad I finally watched this absolute classic. [Grade: A+]
The Twilight Saga: Breaking Dawn Part 2 (2012)
Viewed on: October 15
If there was a solid way to end a mediocre, lightweight film franchise, this is it. Featuring some of the series' best moments and characters, Breaking Dawn Part 2 is not a great movie, but it does conclude the Twilight saga in an unapologetically satisfying and interesting way. It certainly doesn't make me want to see more, but I'm glad I watched them, if only for the experience. At least they went out on a high note. [Grade: B-]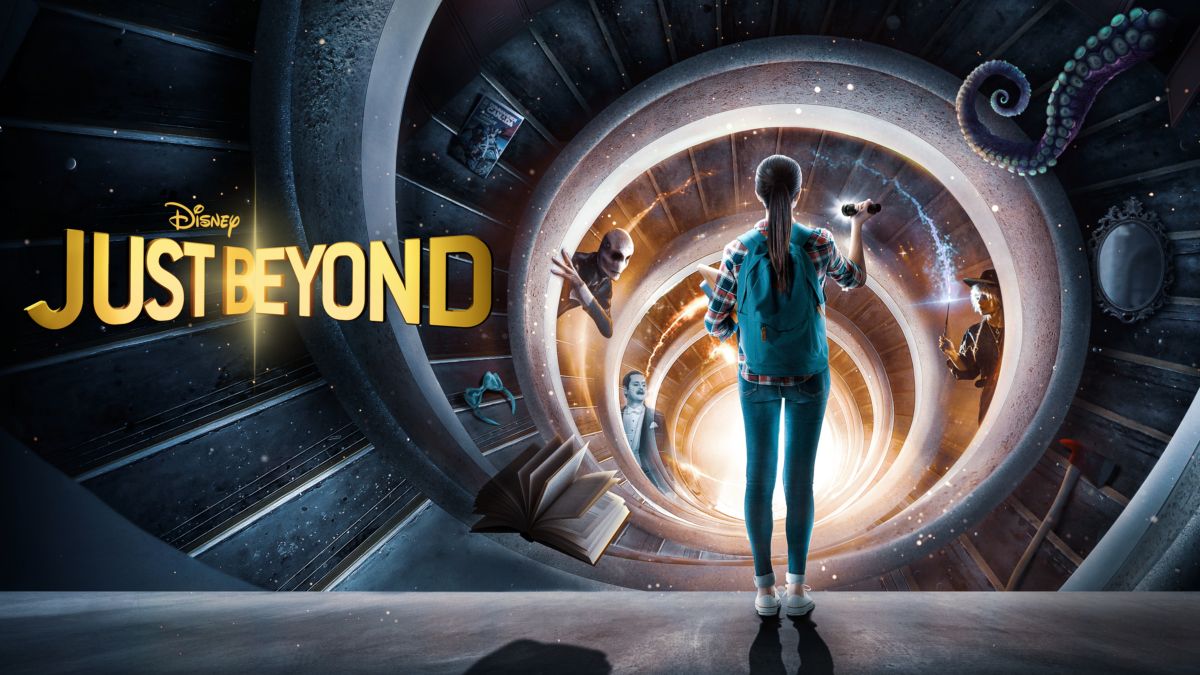 Just Beyond Season One (2021)
Viewed from: October 13-17
This family-friendly anthology horror series from Disney+ kind of came out of nowhere, but it was definitely a fun watch. Throughout each of its eight episodes, we get the intentionally unshakable feeling that something is not right, relatively tame jump scares, and some basic Disney Channel-esque, kid-friendly horror. The episodes are pretty short, but they're fun, based on a series of comic stories from Goosebumps creator R.L. Stine. The intro sequence, in fact, is very reminiscent of the Goosebumps series, though that one took far more risks than Just Beyond does. It's low-budget and campy, but it's exactly what I expected; and it has a message, a through-line theme of not being ashamed of who you are, and taking control of the freedom to express yourself. If this is a success, it looks like harmless horror fun is here to stay on Disney+, and I'm on board with it. [Grade: A-]
The Last Duel (2021)
Viewed on: October 17
Matt Damon has had quite a career...and so has Adam Driver, especially in recent years. So when you see both of them playing squires in medieval France, with Damon being constantly upstaged by Driver, a new arrival on the scene, you can't help but draw comparisons to their real-life careers. Of course, I highly doubt that Damon and Driver have a real-life rivalry akin to their fictional counterparts, but you never know.
The Last Duel
tells the story of the last royally-sanctioned duel to the death in medieval France, and it features stunning lead performances from Damon, Driver and Jodie Comer, who is the central figure in the reasons for the duel. Directed by Ridley Scott (still going strong!) from a script by Damon, Ben Affleck (who also stars) and Nicole Holofcener,
The Last Duel
features a unique storytelling device and boasts strong production design, fight scenes (however brief) and a prevalent message that was as relevant 600 years ago as it is today, as unfortunate as it is. It's one of Scott's best recent films, truly one for the history books.
[Grade:
A+
]
TO BE CONTINUED!