Just when you thought remaking a classic couldn't make it any better, here comes Steven Spielberg, one of the greatest directors of all time, adapting one of the greatest stories of all time — yep, it's Romeo & Juliet on the streets once again with a "reimagining" of West Side Story.
"Reimagining" is in quotes here because there's not many ways that Spielberg's West Side Story deviates from the 1961 film. It follows the same track, most of the scenes are recreations (albeit with much more flair and welcome splashes of color), but the differences that are there admittedly serve the story better. 1961's West Side Story isn't a nostalgic favorite of mine, but I can recognize why it's regarded as a classic and why it's looked back on as one of the greatest musical films ever made.

If you're somehow unfamiliar with the…um, story, allow me to assist. In the streets of 1960s New York City, two rival gangs (the Jets and the Sharks) are constantly at each other's throats, much to the chagrin of Lieutenant Schrank (Corey Stoll) and Officer Krupke (Brian d'Arcy James). While the gangs are organizing a 'rumble' to settle their differences once and for all, María (Rachel Zegler), the sister of Shark leader Bernardo (David Alvarez) falls in love with Jets co-founder Tony (Ansel Elgort), which creates a whole host of new problems.

Maybe I could've explained it better, but it all boils down to a simple premise. Boy meets girl. Girl can't be with boy, but boy and girl love each other anyway. Girl and boy make plans to run away together, but then tragedy strikes. A tale as old as time, to be sure.
The racial aspect of West Side Story, owing mostly to the fact that the Sharks are Puerto Rican immigrants, is handled better in this version. I think most of that comes with the benefit of hindsight, with Spielberg's West Side Story being a period piece as opposed to a portrayal of contemporary America. There is no artificially darkened skin, and the portrayals (while sometimes intentionally stereotypical) feel more respectful and well-handled.
Spielberg has said that he has wanted to adapt West Side Story since he first heard the Broadway cast recording in the late 50s, and his passion certainly shines through in what is somehow his first musical feature film. I'm glad he was the one to do it; as a film enthusiast, I geeked out multiple times during the movie at the appearance of an absolutely stunning shot. The way that shadows are used, especially, blew me away.
Of the cast, some of the standouts were as I expected. I knew I would fall in love with Rachel Zegler (in her first-ever film role!), and just as I thought, she stole the show every time she was on-screen. Her career is going to explode after this, even beyond her already-confirmed roles in Snow White and Shazam: Fury of the Gods. The other standout, not as expected, was Mike Faist (whom I recognized from the original Broadway cast of Dear Evan Hansen) as Jets leader Riff. The love story may be the heart of the movie, but Riff is the tough, emotional core, and as far as I'm concerned, Faist played him perfectly. Not to mention that every one of the characters is likable, and it doesn't even matter what side they're on — everyone gets their moment in the spotlight.
Oh, and of course, it's a musical! I must say, the songs in West Side Story have never fully grabbed me, but it's easy to see them for their lyrical and rhythmic genius. The new cast absolutely kills every musical number, and it's nice to see a stunning amount of variety in both the locations and choreography in the musical sequences — that is to say, I liked the songs better this time around.
There are lots of things that 2021's West Side Story does right, like the fact that all of the Spanish spoken goes un-subtitled, a bold move but ultimately the right one; we still get the impact of what they're saying even though not everyone will understand every word. There's a more direct representation of a transgender character, which is a small but important indicator of the fact that times have changed. Also, Rita Moreno tops her performance in the original as Valentina, the most empathetic character in a role that will hopefully earn her an Academy Award.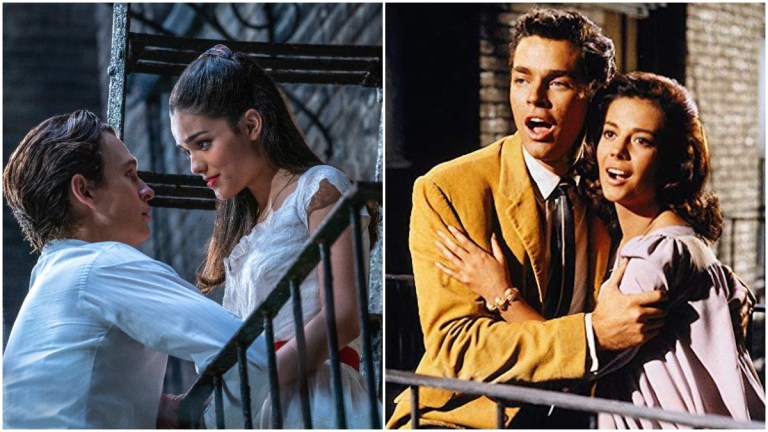 By the way, I am in no way claiming that the original West Side Story is a bad film — in fact, it's an excellent one. But Spielberg's version, instead of being another soulless reboot, is full of life and wonder, revitalizing the story for a new era while staying true to its roots. [Grade: A]
Director: Steven Spielberg
Writer: Tony Kushner
Starring: Rachel Zegler, Ansel Elgort, Mike Faist, Ariana DeBose, David Alvarez
Rated: PG-13 for some strong violence, strong language, thematic content, suggestive material and brief smoking
Available: Disney+
Fun Fact: If Rita Moreno wins an Oscar for her performance as Valentina, this will not only be her second award specifically for West Side Story (she won Best Supporting Actress in 1962!) but she will also be the oldest Academy Award winner.