I always appreciate when animated movies are willing to get a little more adult, while still staying true to their values and producing films that can be enjoyed by everyone. Cars was the first movie I ever saw in a theater, and now thousands of young Pixar fans, myself included, have passed into adulthood. I have been able to understand a lot of the adult-oriented jokes for years, but 2022, sixteen years since Cars, is the first time I've seen an entire Pixar movie that centers itself around a theme that may not be entirely kid-friendly — and I am absolutely here for it.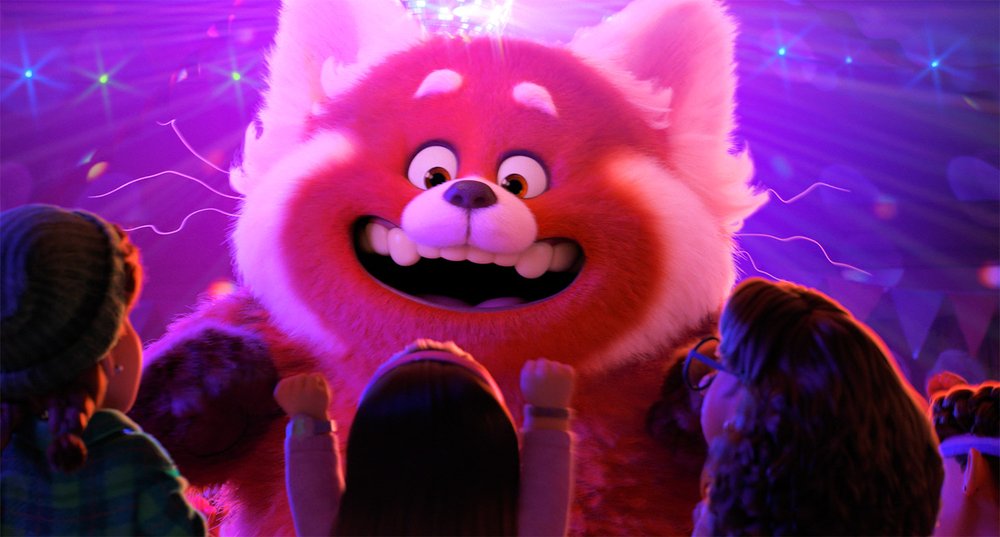 Image courtesy of Pixar
From the director of Bao, one of the best Pixar shorts ever made, comes Turning Red. Set in 2002, the film follows Mei (voiced by Rosalie Chiang), a young Chinese-Canadian girl whose puberty takes on an interesting form — whenever she experiences strong emotions, including excitement or anger, she transforms into a giant red panda.
The metaphor isn't exactly subtle — "my panda, my choice!" — but it doesn't need to be. Like any good Pixar coming-of-age film, it's brutally honest (in a PG way) about children growing up. They're going to be mean to their parents, they're going to drift away from what they used to enjoy doing, and they're going to be awkward as hell — in fact, I'm pretty sure a lot of the excuses that Mei gives to her parents are word-for-word what I've said to mine. As someone who's still not very far from that point in my life, I appreciated the sincerity of its portrayal here.
With an all-female creative team and a predominantly-female cast, Turning Red is an excellent metaphorical representation of the female experience, one that I will never be able to fully understand. It also takes the time to explore the mythology of its fantasy without making it a focal point and muddying the story, respectfully intertwining it with Chinese traditions and cultural elements.
I'm pretty sure the reason Turning Red is set in 2002 is because Mei and her friends are obsessed with a dreamy, cookie-cutter boy band called 4*Town, ripped straight from the *NSYNCH handbook of beautiful young singers. Voiced by Jordan Fisher, Finneas O'Connell, Josh Levi, Topher Ngo, and Grayson Villanueva, the fictional band of 4*Town also has a number of songs on the film's official soundtrack which, regrettably, I've been unable to get out of my head. The soundtrack also includes instrumental music by now-Disney favorite Ludwig Göransson, making it a Pixar score for the history books.
"Why is it called 4*Town when there are five of them?"
Image courtesy of Pixar

Turning Red uses its setting to its full advantage. It uses a technique I attribute to Mean Girls, introducing a variety of characters and story points through 'interviews' with random schoolchildren, and its animation means it is able to give a visual representation to teenagers' tendencies to blow everything out of proportion. Even if there was no fantastical red panda twist, I would love to just spend time with these characters.
Unfortunately, at least in the US, Turning Red was a straight-to-streaming film, premiering directly on Disney+. After Soul and Luca debuted the same way, while other Disney films are getting released exclusively theatrically, I'm willing to almost call this a conspiracy. Pixar films have never been below the highest quality of animated films, and to push them right to streaming while other films get the theatrical spotlight is just unfair to the talent involved and the hard work that gets put into each one. This is a part of a larger discussion about streaming and the future of movie theaters, but I'll leave that for another article.
Turning Red's status as an exclusive Disney+ film does nothing to detract from its quality, though. I don't want to refer to it as "any old Pixar movie," because no Pixar film deserves that, but Turning Red has all the trademarks — a heartfelt and widely-understood message, all-age appeal (despite tackling relatively mature themes) and genuinely funny humor. As someone who grew up watching and enjoying Pixar, Turning Red is the perfect next step in the continued evolution of the world's best animation studio.
Image courtesy of Pixar
Turning Red is now streaming on Disney+.