After the disappointment of 2018's Crimes of Grindelwald, the Wizarding World has returned with a new Fantastic Beasts sequel that has the potential to either save or destroy the franchise. With some cast changes (and some bizarre mainstays), The Secrets of Dumbledore could be a glimmer of hope for fans of the series…or it could be the final nail in the coffin.
Image courtesy of Warner Bros
Despite being confused about its own timeline — a character claims that the first film took place a year before, when that's almost certainly not the case — we apparently pick up with our favorite characters in 1932, as the followers of dark wizard Gellert Grindelwald (played here by Hannibal's Mads Mikkelsen, replacing Johnny Depp) are growing in number, and a war in both the magical and non-magical worlds becomes more an eventuality than a possibility. Just as with its predecessor, there are far too many characters to follow, but at least The Secrets of Dumbledore has a concrete idea of how to use each one and make their parts important in the grand scheme of its story.
One thing that this movie reminds you of very often is that it's set in the same world as Harry Potter. Whether that be with music cues that make your heart flutter or the return of familiar locations, The Secrets of Dumbledore is genius in the way that it chooses to remind you why you love this world so much. Of course, this can go both ways — one of the film's main plot points is a massive retcon, introducing a brand-new factor to the Wizarding World that will make you wonder why it wasn't a part of Harry Potter. That's usually the deal with prequels, but it seems careless to the point of ridiculousness. That being said, at least it's not done to the extent that Crimes of Grindelwald chose to ravage its own timeline.
True to the film's title, Dumbledore (once again played by Sherlock Holmes' Jude Law) has more screen time, acting as the puppet master in their moves against Grindelwald. He still hasn't broken the magical blood pact that prevents him and Grindelwald to fight each other directly, which is already a big tip-off as to the substance of the climax, but also ensures other characters, aside from the all-powerful Dumbledore, have roles to play.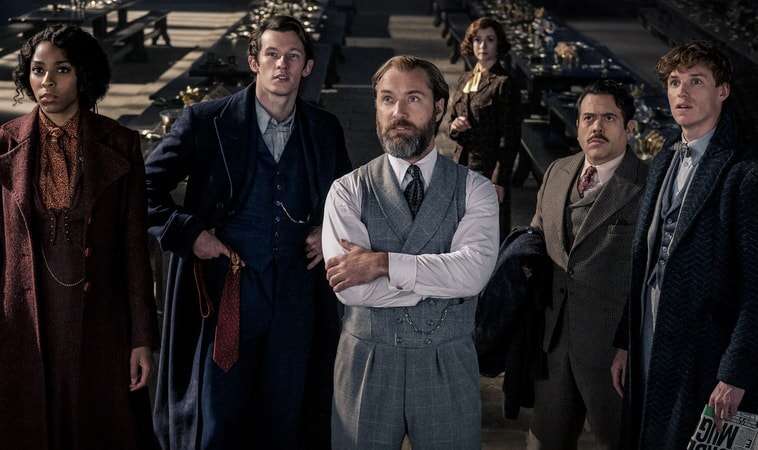 Image courtesy of Warner Bros
Eddie Redmayne is back as Newt Scamander, the socially awkward magizoologist who continues to be wrapped up in the war against Grindelwald. Also returning to the franchise is Dan Fogler as Jacob Kowalski, the No-Maj (or "Muggle") befriended by Newt in the first film; the recently-controversial Ezra Miller as Credence Barebone, seeking to embrace the new identity promised to him by Grindelwald; Alison Sudol as Queenie Goldstein, Jacob's former girlfriend who is now a part of Grindelwald's followers; and Callum Turner as Theseus, Newt's older and much handsomer brother. I've barely scratched the surface, but it feels like a lot of characters are in this movie to justify their appearances in previous films. This makes some arcs and line deliveries a little awkward, but nowhere near as shoehorned or clumsy as Crimes.
Oddly enough, one of the casting choices I was disappointed by is Grindelwald. Johnny Depp's firing threw a wrench into the film's production, and coincidentally ensures that the role of Grindelwald has become akin to the Defense Against the Dark Arts position in the Harry Potter series: every year, there is a new occupant. Colin Farrell began as Grindelwald in 2016's Fantastic Beasts, with Depp only cameoing at the end, and now accomplished (and beloved) actor Mads Mikkelsen has stepped up to take the part.
I have an unabashed love of Mikkelsen and his work, and his hiring was exciting. Bringing a new dimension to a now-familiar character is always an interesting challenge for an actor, and it's because of that I felt a little let down. Mikkelsen is menacing and calmly terrifying, but throughout most of the film I couldn't put my finger on why I didn't love his interpretation of the character. Near the end, I finally realized — Depp did it better. He had mastered the silent laughter and evil sneer that is perfect for Grindelwald's demeanor, and most of that is lost with Mikkelsen.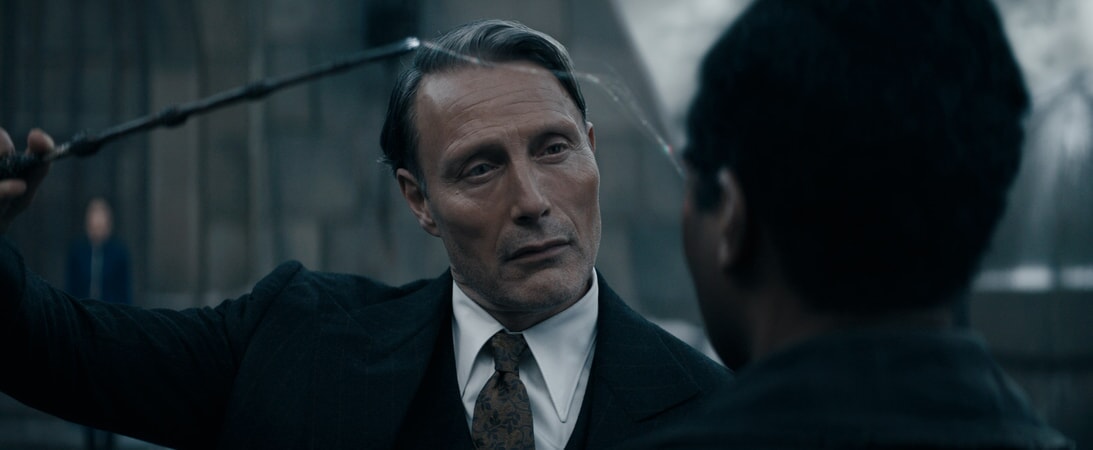 Image courtesy of Warner Bros
For the supposed main villain of this franchise, Grindelwald needs to have an air of purpose and a consistent tone. Up to now, he's had neither, purely because the actor and motivation changes from film to film. I have faith in a potential fourth Beasts, but there are some serious changes that have to be made in order to convincingly build to a satisfying finale.
All said and done, I couldn't help but smile during The Secrets of Dumbledore. It plays the nostalgia card very frequently, but very skillfully, continuing to remind me why I love being immersed in the Wizarding World. It avoids an obscene amount of course-correction from its predecessor and instead goes forward with the natural progression of established events — but at the same time, it still feels like an entirely different franchise than it started out as. The titular fantastic beasts are given more character this time around, but this franchise still has a long way to go in proving itself as a worthy member of the Wizarding World.
Fantastic Beasts: The Secrets of Dumbledore Apparates into theaters April 15.