The not-so-fantastic Harry Potter spinoff series welcomed a new entry this week with The Secrets of Dumbledore, and I didn't have a chance to cover everything I wanted to in my review. Here are some other thoughts I had about the film that didn't quite fit into the review — and keep in mind, there are major spoilers ahead.
I still can't believe they censored six seconds of this film in China, almost certainly from the opening scene. I have a feeling it's when Dumbledore says to Grindelwald that he made promises in his youth because he was in love with the dark wizard, but even if it's not said aloud, it's still painfully obvious what's going on.
There are some very well-done details here, especially the early iterations of Death Eater magic — at the beginning, when Newt is attempting to escape with the Qilin, one of Grindelwald's followers flies next to him the same way that Voldemort's minions later do in the Harry Potter series. Perhaps it's a universal "bad guy" method of travel.
Grindelwald becoming a politician (with a rigged election, no doubt) can't help but feel critical of certain nations' governments. I'm not saying it's trying to commentate on Putin or Trump, but I wouldn't be surprised if there was at least a bit of intentionality behind it.
Admittedly, I was expecting more from the screenplay. It's only "based on" a script by J.K. Rowling, so I'm assuming she wasn't as involved, especially after the controversies that have been plaguing her since she decided to let her opinions loose on Twitter. Steve Kloves, scribe of all but one of the Harry Potter films, took over, and I felt a little let by the dialogue, a lot of which felt clumsy and forced. Maybe it was a matter of salvaging what he had been presented with, but I didn't feel the same electricity that comes with all of Klove's Potter scripts.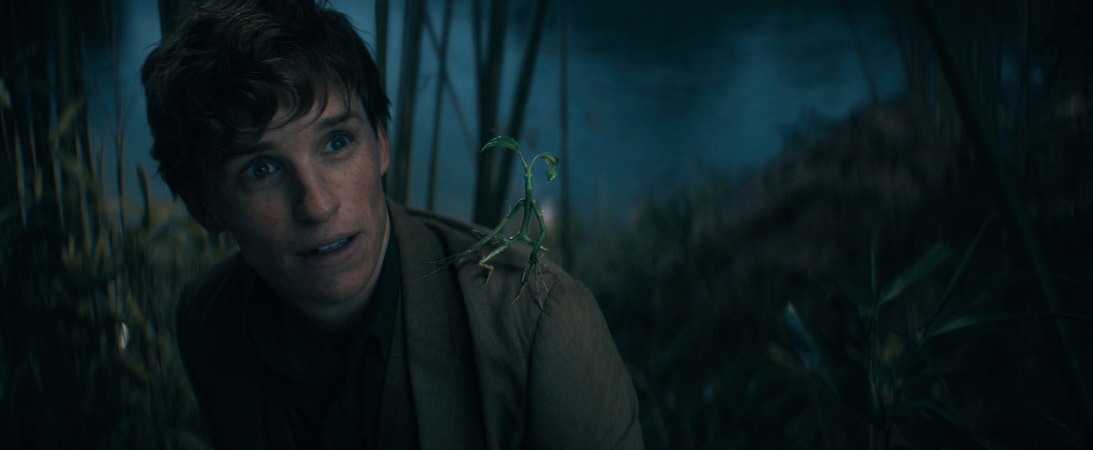 Image courtesy of Warner Bros
Why are there so many characters in this movie? I can see the need to bring back Newt, Jacob, Theseus, and Queenie (aside from the indispensable Dumbledore and Grindelwald), and I could even make the case for Newt's assistant Bunty, but why was Yusuf Kama, a character that most forgot about after Crimes of Grindelwald, treated as a main player? It would have been far more interesting for Tina, dull as she is, to be at the forefront — think about her going to Grindelwald's castle and supposedly joining him because of her sister, but maybe the audience is fooled into thinking she actually falls in line because of Queenie. That way, you get character conflict and genuine growth, and there isn't an over-assortment of people you have to follow.
Someone in this movie mentions "wand registration." Is that a part of Wizarding World politics we haven't heard of or seen? Because that actually sounds kind of interesting.
Dan Fogler has always given 110% in these movies, and aside from Eddie Redmayne, he seems to be the one committing the most to his wacky character. It helps that he's clearly having a lot of fun — Jacob is one of the most interesting characters in The Secrets of Dumbledore (somehow!), and I'm fascinated to see where his and Queenie's story goes in the future.
While we're on the cast, Richard Coyle is perfect as Aberforth Dumbledore. He really felt like a young Ciarán Hinds (who played the character in The Deathly Hallows Part 2), and this is one of the best "young character" castings I've ever seen.
Why does Grindelwald travel by car?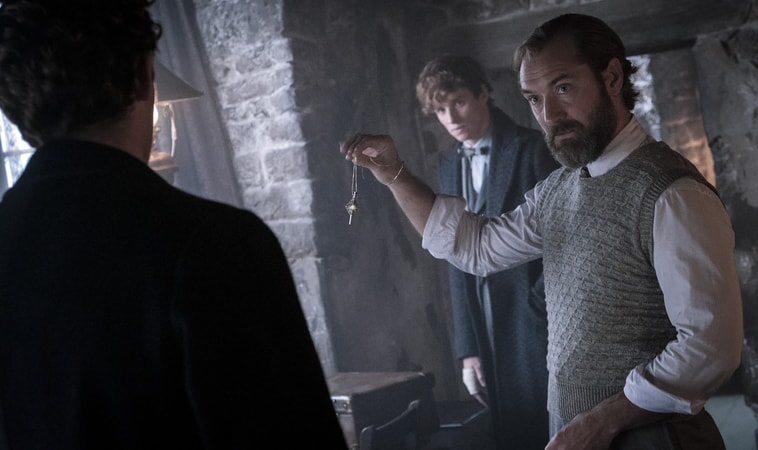 Image courtesy of Warner Bros
I mentioned this in my review, but I really do think it's interesting that Harry Potter has become a franchise that has come to rely on its nostalgia for much of the joy and smiles it brings. It knows that the people who grew up with the original series are adults now (and some have kids of their own), so when the music swells as they enter the Room of Requirement and we see the Golden Snitch whizz through the air, it knows exactly how it's making us feel. I hope it won't become too reliant on that tactic in the final two movies (and the inevitable future spinoffs), but I'm not holding my breath.
That said, I am fascinated by the future of this franchise. If they wanted, they could easily have made it a trilogy, with the Dumbledore vs. Grindelwald duel happening at the conclusion of this movie. I am resigned to the fact that we are likely getting two more, and am just excited to see the duel when it finally happens. I expect it to be appropriately epic, and the climax that the Fantastic Beasts franchise definitely doesn't deserve — but hey, when it's pulling the nostalgia strings, who really cares?
And finally…what are the secrets of Dumbledore?
Fantastic Beasts: The Secrets of Dumbledore is playing in theaters worldwide.