This is another list that I intended to do at the mid-year point, but again, due to shifting schedules and the general chaos of life, it's now an August event. There are some series that are either currently airing or have just completed (looking at you, Only Murders in the Building) that will almost certainly appear on my list by the year's end, but for now, I'll focus on series that have completed on or before the week of August 15. And with that, enjoy my top ten television series of the year thus far!
Image courtesy of Netflix
Just as the technicians behind the central interactive theme parks continue to learn from their mistakes, the creatives behind the HBO series only keep improving on the premise that first grabbed audiences six years ago. As with each passing season, I keep wondering where Westworld is going, and if it has an end goal in mind. The fourth season seems the most confident in its trajectory, and as with any great year of television, I can't wait to see what happens next.
Image courtesy of Warner Bros
Streaming on HBO Max. Read my full review HERE, and some thoughts about Season 4 Episode 5 HERE!
9. The Time Traveler's Wife
Based on the novel (and subsequent film), The Time Traveler's Wife is the unconventional love story of Henry DeTamble and Clare Abshire, the former of which has a strange condition which occasionally causes him to travel through time, always within his own lifetime. The series was unfortunately canceled after one season, but it functions well enough as a miniseries; full of absolutely fascinating concepts and compelling story turns, I can't for the life of me imagine how this series doesn't land on both a tensely engaging and emotionally resonant level.
Image courtesy of Warner Bros
Streaming on HBO Max.
8. Pam & Tommy
This is an empathetic and extremely well-made series that deserves all the praise! All three leads are absolutely incredible — Sebastian Stan does a near-perfect Tommy Lee, Lily James is heartbreaking as Pam Anderson, and Seth Rogen is half-playing against type in one of his best performances thus far. I loved its representation of the early age of the internet, and it made everything exciting and dynamic in ways that felt true to the characters. The politics and the real-life reactions are one thing, but the series presents everything very sympathetically and respectfully to all parties involved.
Image courtesy of Hulu
7. The Afterparty
One murder investigation. Six suspects. One high school reunion. Aside from probably being a Law & Order episode from sometime during its run, these are the ingredients for The Afterparty, one of the most creative series I've seen recently. Masterminded by Phil Lord and Chris Miller (The LEGO Movie, 21 Jump Street), each episode of The Afterparty takes a look at the evening from the perspective of another character — with the twist being that every character has the viewpoint of a different genre. There's a Fast and Furious-type action re-telling, an animated musical, and everything in between. It's all hilarious, and always fun and clever. With a second season on the way, there's no reason you shouldn't check out the first!
Image courtesy of Apple TV+
Streaming on Apple TV+.
6. Severance
A workplace comedy like no other, Severance is a big swing by longtime director Ben Stiller as a cynical look at oppression, and how workers can come together in the face of adversity. Adam Scott leads a pack of ridiculously talented actors who make up a workstation floor of people whose work selves are separated from their personal selves via a brain implant — the "severance" procedure. Despite being set in the nondescript near future, the events of Severance feel like they could be happening today, in any one of the shady office buildings without an abundantly clear function.
Image courtesy of Apple TV+
Streaming on Apple TV+.
5. The Umbrella Academy
The characters and their increasingly bizarre interactions and storylines are what is keeping The Umbrella Academy together amidst a variety of outlandish and peculiar plot twists, and I don't mind at all. Season Three takes everything a step further, answering some mysteries that have haunted the series for years while simultaneously opening a dozen new doors. I love this batshit crazy show, and even if it stretches on for far too long, I don't see that love ever fading.
Image courtesy of Netflix
4. The Boys
The Boys
Season Three throws subtext out the window in favor of telling a story directly inspired by the horrors of reality, uninhibited by the taboos of modern culture. Saying that this tactic is a strength for the series feels unfair, because that implies that
The Boys
is incapable of telling a story with subtlety and cleverness, and that simply isn't true. In fact, the way that Season Three utilizes recent real-world events and applies them to figures with the god-like ability to actually practice what they preach is nothing short of terrifyingly genius.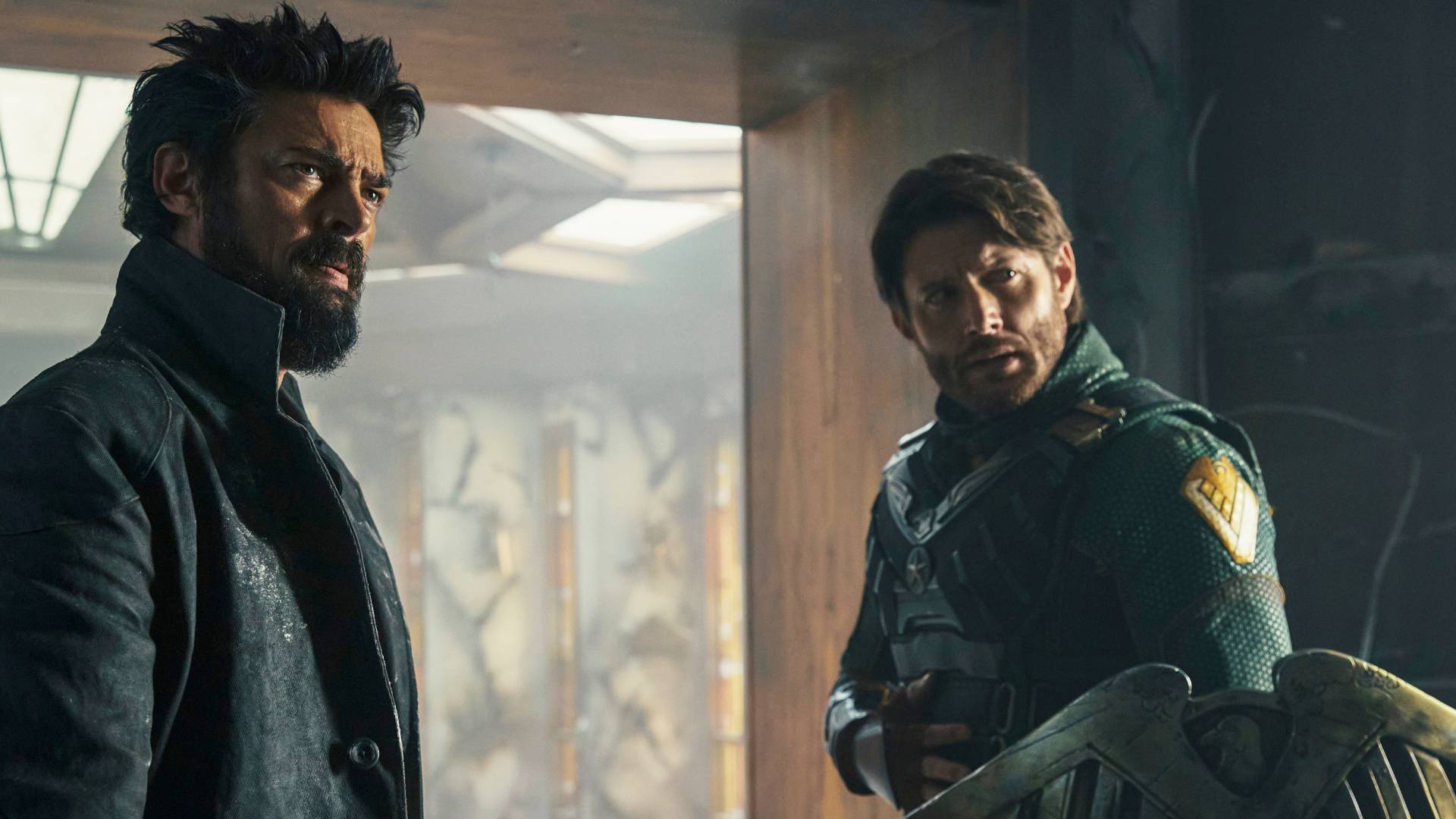 Streaming on Amazon Prime Video. Read my full review
HERE
!
3. Better Call Saul
Vince Gilligan and Peter Gould did the impossible in creating a television universe with not one, but two perfect series and one incredible film. Soon, hot takes about the averageness of Better Call Saul will come flooding in, but know that what we have here is something special. Saul turned an originally humorous character in Breaking Bad into a tragic figure with an intricately depressing backstory, with six seasons of lesson-learning and courtroom-focused twists and turns under its belt. Bob Odenkirk, Rhea Seehorn, Giancarlo Esposito, Jonathan Banks, Michael Mando and Patrick Fabian are just a scant few of the cast members giving the best performances of their careers in a show that is destined to go down in history as the best-ever courtroom drama (sorry, Bull and...uh...She-Hulk, I guess).
Streaming on AMC+ and Netflix.
2. Barry
If you want to laugh until you cry and then, in the span of a few minutes, see a performance that will surely warrant an Emmy nomination, Barry is the series for you. Everything seems to be coming to a head in Season Three, with unexpected connections to previous seasons, done in such a way that indicates an ending could be coming sooner rather than later. Now is the perfect time to immerse yourself in this absurd, ridiculous and downright exciting world of crime, plus the arguably more intense LA acting scene.
Image courtesy of Warner Bros
Streaming on HBO Max. Read my full review HERE!
1. Stranger Things 4
The expanded runtimes and set pieces mean that the series is the most cinematic it's ever been, with film-quality sequences that transcend the screen in ways that a network series never could. It even works in conjunction with the setting of the mid-1980s, placing a fantasy/horror sheen over one of the most recognizable decades in human history. That's been one of the series' strengths since day one, and it sticks to its guns here.
Image courtesy of Netflix
Streaming on Netflix. Read my full review HERE!
Our Flag Means Death: Excellent, both as a flawlessly stylized period comedy and a parody of the pirate sub-genre of pop culture. Streaming on HBO Max.
Moon Knight: F

eels like it deserves to be a series, and uses its extended storytelling to deliver a fast-paced and straightforward superhero action show that lets loose with its violence and weirdness.

. Streaming on Disney+.
The Dropout: A very human story, and while the series is strategic enough to avoid evoking too much sympathy for deeds which are objectively wrong and harmful, you can understand the ambition of Elizabeth Holmes, and recognize why she pushes herself to the very brink. Streaming on Hulu.
The Righteous Gemstones: Even funnier and more dramatic in its sophomore season, The Righteous Gemstones shows no signs of slowing down, for better or for worse. Streaming on HBO Max.
Image courtesy of Warner Bros
Prehistoric Planet: An exposé of sorts, though there's no scandal to be found; instead, it's an easy and appealing way of educating ourselves about the quirky and unique wonders of planet Earth, as ruled by the dinosaurs. Streaming on Apple TV+.
Winning Time: As witty and charming and stylized, plus everything else you would expect from a team-up between Adam McKay and HBO. Streaming on HBO Max.
Love, Death and Robots: With an anthology series, not every episode (or season) is going to be a winner. The third season of Love, Death and Robots features the series' best, worst, weirdest and funniest episodes yet. That's a feat not easily replicated. Streaming on Netflix.
Mr. Mayor: I'm genuinely disappointed that this got canceled, especially considering each episode had at least a barrel of laughs and a wonderful comedic situation for the performers to sink their teeth into. Streaming on Hulu and Peacock.
Upload: Scary in the most non-horror way possible, Upload continues to be a solid predictor while also developing its leads in a sensible, and adorable, way. Streaming on Amazon Prime Video.