Comparatively, few horror properties get a chance at a franchise, but in recent years, the name of the game seems to be ordering a trilogy right off the bat. The Fear Street series found success with this plan in the streaming realm, and it was recently confirmed that remake and sequel trilogies of The Strangers and The Exorcist, respectively, are on the way to theaters. These are all based on pre-existing multimedia franchises, so it only makes sense that an original horror film would, at some point, get a similar treatment.



After the credits rolled on writer/director Ti West's taboo-shattering flick
X
(released just six months ago), audiences were treated to the surprise reveal of a prequel, set sixty years earlier, centered around the early life of
X
's primary antagonist: the embittered, elderly and lonely Pearl, who kills a group of pornography-producing youngsters on her farm in the 1970s with her husband Howard.
Shot back-to-back with X in New Zealand, the aptly-named Pearl brings us back to 1918, and once again puts star Mia Goth in the center stage. Goth played both Pearl and the much-younger protagonist Maxine in X, so her reprisal of the Pearl role (without pounds of make-up and prosthetics) is a sensible one. And just like in X, Goth plays the role to perfection, showcasing Pearl as a genuinely disturbed antihero whose actions are irrefutably awful — however, since she's the main character, the film's feelings concerning her initiative are tangled and conflicted. Goth also co-wrote Pearl with West, a sure sign that she had a firm hand in the characterization of the role she originated. Plus, she has a stronger screen presence this time around, capped off by a monologue in the third act that left everyone in my theater screening with bated breath.
Pearl is heavily stylized, fashioned after motion pictures of the early 20th century. Pearl herself has been captured by the showbiz bug, and desperately wants to leave the farm where she is purposefully isolated by her devout, overbearing German mother (Shortland Street's Tandi Wright), and forced to care for her catatonic father (Out of the Blue's Matthew Sunderland). It's a lot more colorful than X, as Pearl imagines her dreams unfolding in glorious Technicolor.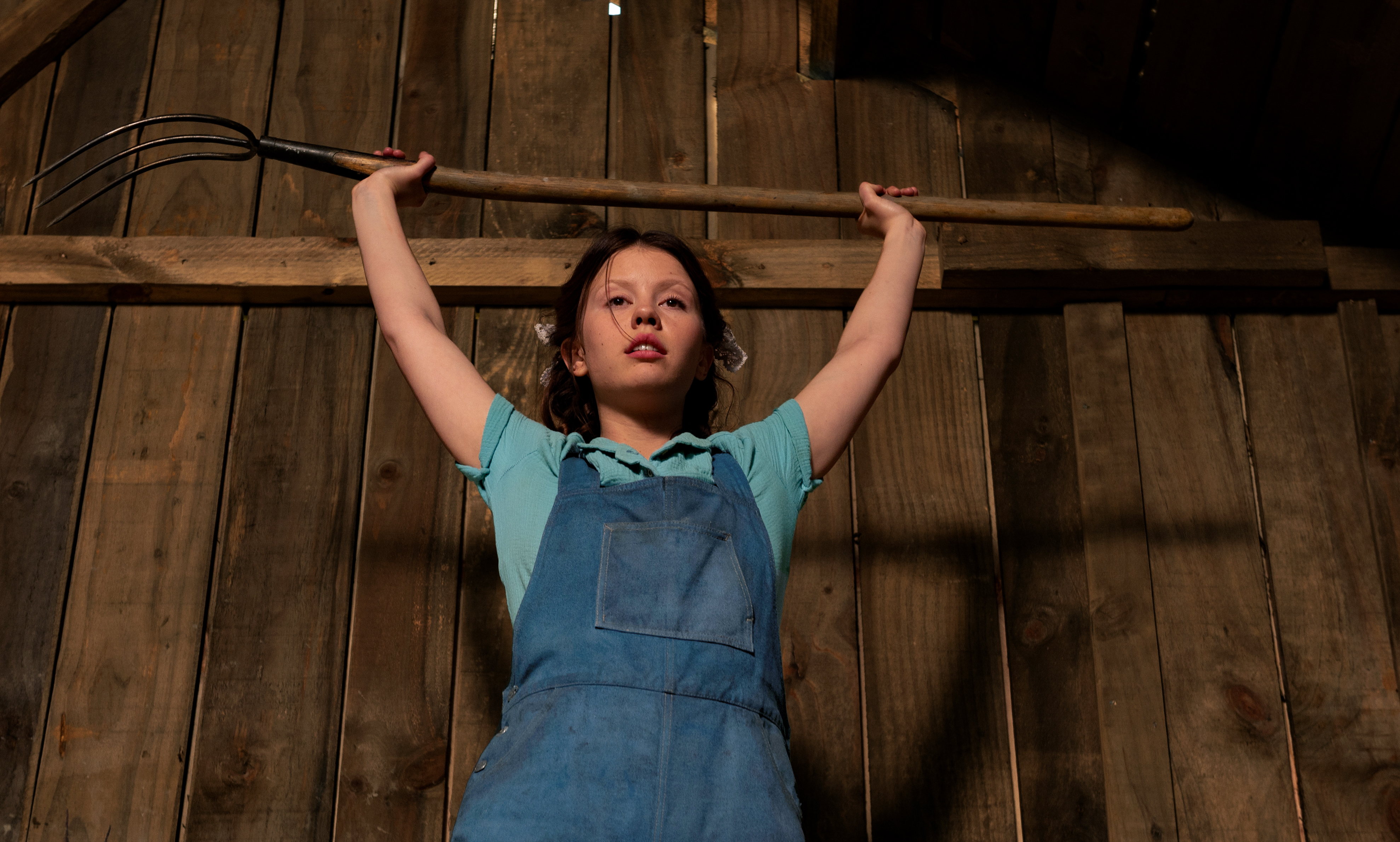 Of course, as we know from
X
, Pearl never actually leaves the farm, and in that way
Pearl
becomes a tragedy. She believes she's special and desires to be a star, but with the backdrop of the devastating Spanish Flu pandemic and the First World War (which Pearl's husband, Howard, is off fighting), everything seems dour and dark, directly clashing with Pearl's dreams.
I shouldn't be comparing Pearl to its predecessor so much (Ti West himself said they were meant to be two different experiences), but it's hard not to, especially when there are so many intentional parallels. Both are perverse, but in contrasting ways — both Pearl and X are about rebels of two vastly divergent time periods, both set in a time of uncertainty and in recovery from a horrific war. That's one of the reasons why I love Mia Goth as both Maxine and Pearl; they're different, but so similar, and Pearl only further confirms it.
'Delusional' feels too harsh a word to describe Pearl's state as we find her in the eponymous film. She's fantastical in her imagination of her own future, but also fanatical in the violent methods she blindly chooses to achieve her goals. We're interested in what made her the monster we see in X, and what turned a restless and undisciplined farm girl into a murderous psychopath.



That might be my one and only problem with
Pearl
— it's a
true
prequel. That might seem like a positive on the surface, but a good helping of "prequel-itis" is sure to taint the experience just a bit. While informing about her early life, it doesn't change the way we see
X
, and Pearl's motivation is annoyingly disparate from film to film. Because of the time period difference, there's a lot of freedom to expand our understanding of how this world has affected our main character, but it seems just as limited as
X
in how it presents her; the only difference is that in
X
, that limitation is favorable — the parallels with Maxine and limited screen time give us all we need — but in
Pearl
, it's a burden.
Pearl will be succeeded by a sequel to X, MaXXXine, which doesn't have a release date yet. I have a feeling the three will function as a cohesive trilogy, so a watch of X may be helpful for the full Pearl experience, but it's not entirely necessary. In fact, it may work better on its own: a story about an angry farm girl, whose hysteria is born out of constant rage, with an unclear future. Knowing where she ends up, and seeing that she was always that way, blunts her character development, and we learn more about her through shocking revelations rather than proper evolution.
We're getting more X movies whether we want them or not, so why not embrace it? It's rare we get a new franchise based on an original concept, and there's obviously plenty of creativity and beautiful ideas being poured into the series thus far. After all, these X films are not about what I want, but making the most out of what I have — and you could do far worse than Pearl.
Pearl hits theaters this Friday, September 16.