The Academy Awards are airing live on March 12, and for the first time, I have set out to break down every nominee in every category in order to assess, as accurately as I can, who and what has the best chance of winning. Today I will be discussing the nominees for Best Cinematography!
Visually, All Quiet on the Western Front is a harrowing experience, and seeks to assault your senses with the horrors of war up-close. It's brutal, but it doesn't revel or enjoy its own brutalities — in fact, it often frames its subjects with plenty of space around them, as if to contextualize them and their story within the largeness of the world they inhabit, and prove how small their lives really are, especially in comparison to those in power who are perpetuating the war for their own gain; another storyline that the film does not dedicate too much time to, but makes sure to emphasize is incredibly valuable when closely examining the Great War.
Bardo, False Chronicles of a Handful of Truths
As indulgent and consistently off-kilter it is, Bardo isn't a wholly empty experience — though sometimes it does feel like "weird for the sake of weird," introducing and continuous motifs without a satisfying resolution. By far the highlight is its visual style, which fits in with writer/director Alejandro González Iñárritu's body of work — through Bardo, he bestows upon the audience imagery such as which I've never seen in anything else, and I'm not sure I'll see anything else like it anytime soon. Once thought to be an awards frontrunner (no doubt spurred on by the success of Iñárritu's last two films, Birdman and The Revenant), this is Bardo's only nomination this year, but it's the one that comes most naturally.
Elvis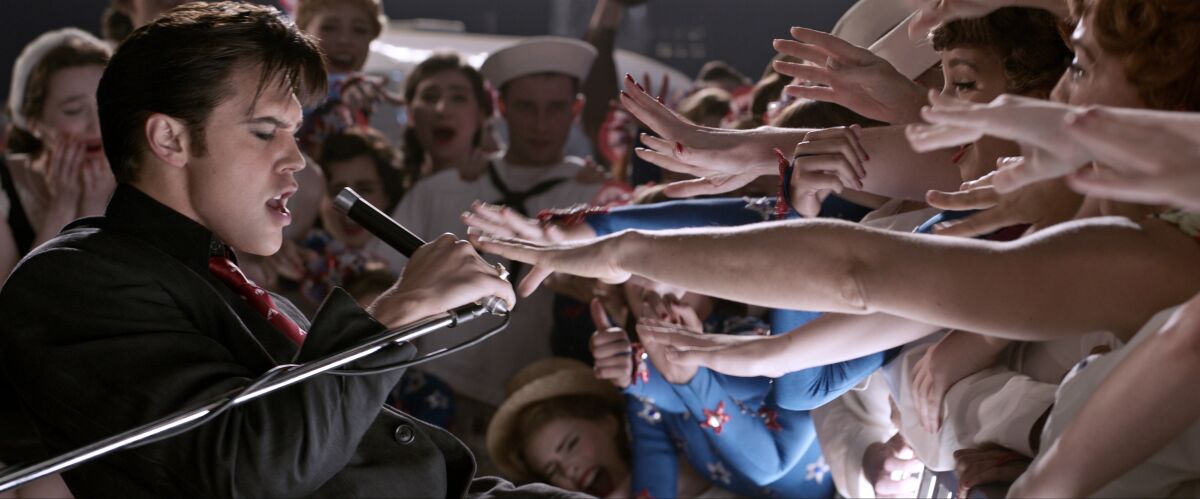 Baz Luhrmann's opulent style doesn't work for everyone, but it cannot be denied that it's wholly unique. He has honed his craft over time, and tends to choose films with subjects that fit in with that style. Elvis, his first film in nine years (since The Great Gatsby, another story that Luhrmann's anachronistic charm is perfect for) fits very well within his chosen sphere, moving quickly and framing its fictionalized mid-20th century with colorful loudness and clear frantic excitement.
Read my review of Elvis here.
Empire of Light
If not for three defining factors, there is no reason why Empire of Light would be in the awards conversation. The first is director Sam Mendes, who has been historically reliable when it comes to making generally good films; the second is star Olivia Colman, who pours everything she has into a role, and is always a standout, even if the film around her is inferior; and the third is cinematographer Roger Deakins, unanimously agreed to be one of the best ever to do the job. Perhaps Empire of Light is an overwrought character study, maybe it's a halfhearted love letter to cinema, or it could possibly be both...but the only element you cannot argue with is that Deakins has an eye for empathetic and stunning imagery and lighting that can make even an ugly story seem magical. That takes skill and talent — which is a requirement, I'd say, if you're going to be nominated sixteen times for an Academy Award, as Deakins has been.
TÁR
TÁR is mostly dark and tends to let the space speak for itself, instead of bogging you down with overly philosophical dialogue — even though its script is phenomenal as well — and nowhere is this more apparent than in scenes where Lydia Tár herself is in the zone, conducting an orchestra or otherwise surrounded by the music that she has dedicated her life to. It's a harmonious communication where every aspect of production works together pitch-perfectly.
Read my review of TÁR here.
What Will Win: Bardo, False Chronicles of a Handful of Truths
What Should Win: All Quiet on the Western Front
What Should Have Been Nominated: Everything Everywhere All At Once