The best word to describe
The Willoughbys
, a new animated film on Netflix, is 'random.' It's all over the place, but in the best possible way. If you're a fan of chaotically fun stories with an emotional core, this film is for you.
The Willoughbys scheme to get rid of their parents.
The titular family is a tumultuous one. The Willoughbys were once a proud and honorable family, but they've since fallen from grace under two horrible parents, simply known as Mother and Father (played with amusing Britishness by Martin Short and Jane Krakowski). They are criminally neglectful of their children, Tim (Will Forte), Jane (Alessia Cara) and two identical twins named Barnaby (both voiced by Seán Cullen). With good reason, the children become fed up with their parents, so they hatch a number of schemes to orphan themselves and gain better lives.
The film is based on a satirical young adult novel by Lois Lowry, and it translates Lowry's pessimistic charm to the screen with beautiful, sleek animation. Speaking as a fan of Lowry's 1993 book
The Giver
, it seems that she has found a niche in portraying wildly depressing situations as a method of conveying important commentary. In portraying this terrible family,
The Willoughbys
shows what a good family looks like and how valuable a loving family can be.
The animation is stunningly inventive, rife with hilarious visual gags and entertaining, if not ludicrous, ideas. It's supposedly set in New York, but the background visuals create a unique city, free from the bounds of reality, where anything can happen.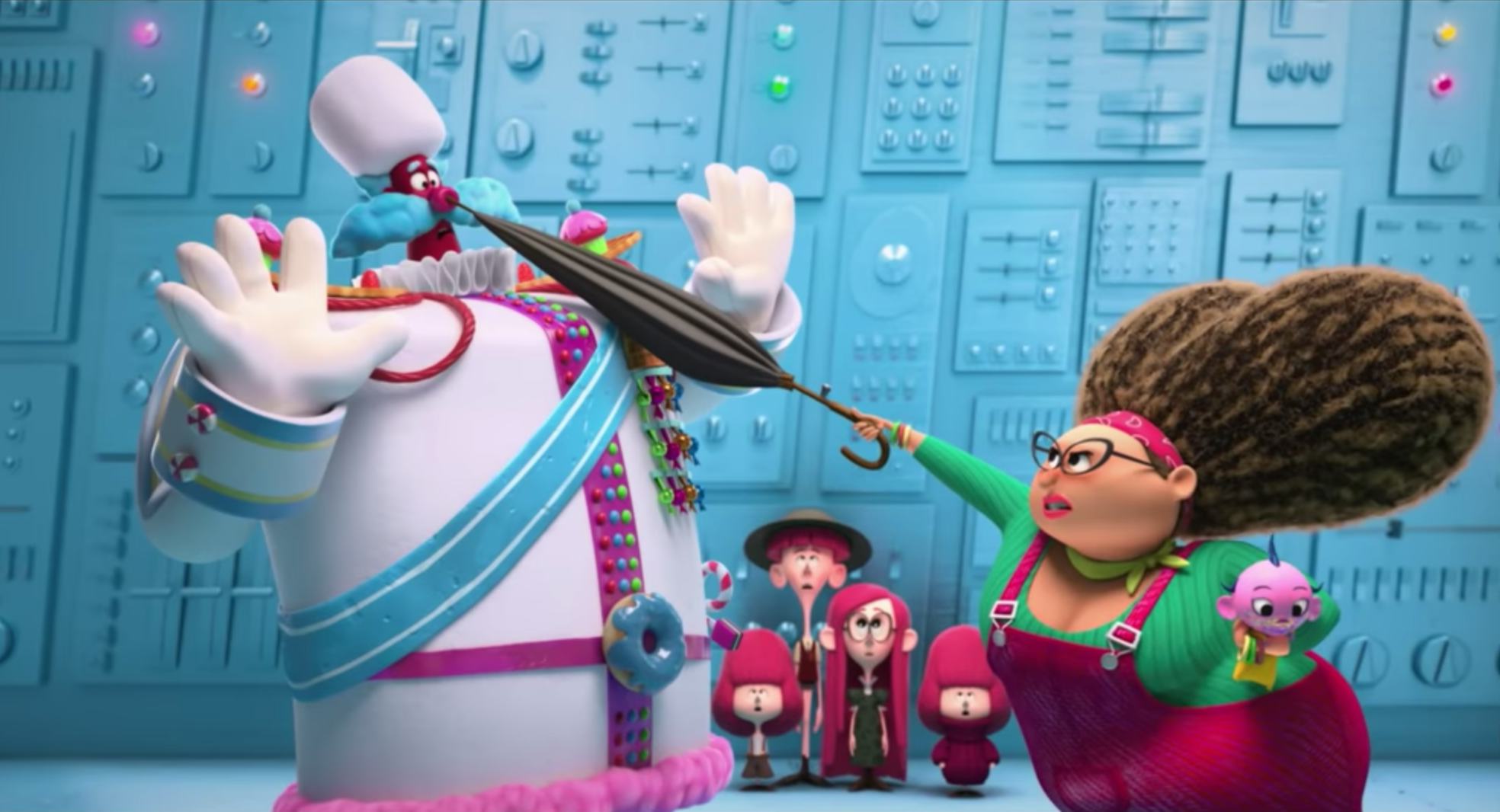 The film is populated by colorful supporting characters.
The characters, while somewhat clichéd, are empathetic and interesting. While Tim is arguably the main protagonist, his younger sister Jane is the film's emotional core, singing touching songs and providing a sensible perspective when the siblings' world gets turned upside down. The Barnaby twins are a major source of comic relief, and if any of the children are less essential to the plot, it would be these two. However, what they lack in character development, they make up for in their ability to be the closest thing to the twins from The Shining that you'll find in a kid's movie.
Also among the cast is Maya Rudolph as a loving nanny, Terry Crews as a bizarre candy manufacturer, and Ricky Gervais as the narrator (who also happens to be a cat, poking cynical fun at the situations in
classic Ricky Gervais fashion
throughout the movie). Point being, even the supporting cast shines.
With a heartfelt message at its core and a stellar ensemble cast, The Willoughbys is an entertainingly sly family comedy with humor and wit to spare. It's definitely your best bet if quirky, animated weirdness is your jam.
[Grade:
A
]
Director:
Kris Pearn
Writers: Kris Pearn and Mark Stanleigh
Starring: Will Forte, Alessia Cara, Maya Rudolph, Seán Cullen, Terry Crews, Ricky Gervais
Rated:
PG for rude humor and some thematic elements
Available:
Netflix
Fun Fact: Alessia Cara (a young singer-songwriter, making a transition to acting)
and Maya Rudolph perform their own singing for the film.