It's a well-known fact that George W. Bush held the American Presidency during the 9/11 terrorist attacks of 2001. But what isn't as well-known is Bush's Vice President, Dick Cheney, was wielding his own, quiet power during this time, using his abilities to extend a major influence on the budding Iraq War. All this and more is covered in
Vice
, a biopic that explores Cheney's life and motivations.
Christian Bale plays Cheney in Vice, sporting impressive makeup that brings his look to an uncanny recreation of Cheney's facial features. The story is narrated by Kurt (Jesse Plemons), a fictitious veteran of the Afghanistan and Iraq Wars. He tells the viewers all about Cheney, starting with his finding work in the White House in 1965 with Richard Nixon's economic adviser, Donald Rumsfeld (played by Steve Carrell in another picture-perfect casting). Cheney goes on to run for representative of Wyoming, and after a number of successes, is approached by George W. Bush (Sam Rockwell) to be his running mate. The film also explores the stories of Cheney's wife, Lynne (Amy Adams) and his daughters (Alison Pill and Lily Rabe), which both play into the larger events at play.
Vice is directed by Adam McKay, the man responsible for Best Picture winner The Big Short and the lesser-regarded Anchorman films, so it's expected that there would be comedy aplenty in his latest political drama. McKay does his best to bring his usual charm and quirks to the White House, and it really works for Vice, especially because the topic is so serious, and McKay somehow figured out how to use that to his advantage and create an entertaining movie that, admittedly, seemed a bit stretched and forced at some points, but it always seemed to recover itself and get back on track.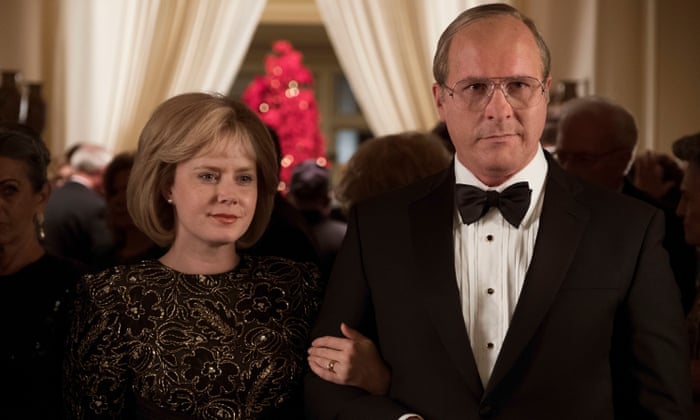 The film takes a candid attitude to Dick and Lynne

's marriage.
One of the most interesting parts of this film is how it takes a man regarded by some as a "monster" and regards him in a strangely sympathetic light. This is especially intriguing because it shows the narrative from a perspective that is largely misunderstood or misinterpreted by the film's target audience.
Yes, Vice takes a strong liberal standpoint to the events of Dick Cheney's life, despite the portrayal of the titular character, but it's a fascinating standpoint at that. It has all the markings of a satire, but it's a fun satire, so it's best to enjoy it as best you can.
So, while Vice did lose my interest at some points, it ended up providing a thoroughly enjoyable look into the life of one of the most private and mysterious leaders in United States history. After seeing this film, I really want to learn more about the lesser-known events that still affect our government and country to this day. [Grade: A-]
Director: Adam McKay
Writer: Adam McKay
Starring: Christian Bale, Amy Adams, Sam Rockwell, Jesse Plemons, Steve Carrell
Rated:
R for language and some violent images
Available:
Hulu
Fun Fact:
Christian Bale and Dick Cheney have the same birthday (January 30).